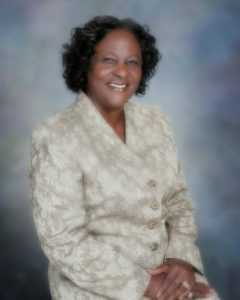 Rev. Rosenda James is an ordained minister, certified pastor, counselor, founder of Adelfiha's Christian Academy and co-pastor of Revivaltime Tabernacle Worldwide Ministries alongside her husband of 43 years, Bishop Dr. Audley N. James.
She is the mother of three grown, married children, grandmother of seven and spiritual mother to countless other. Rev. James has a sincere heart in empowering women in her community. In 1989, Rev. James launched an annual Women's Conferences in Toronto; a powerful tool that unites women within her church, as well as across the city and from around the world. Since that time, several churches in the city have also held Women Conferences, a trend that Rev. James views as positive for the kingdom.
In 1994, Rev. James opened Adelfiha's Christian Academy (A.C.A.). She noticed there was a decline in the public school system, where Christian values were no longer an integral part of the educational process. The academy was housed in the basement of Revivaltime Tabernacle until the Fall of 2002, when A.C.A. celebrated the opening of their own building.
In August of 2003, Rev. James was ordained as a Reverend by Canada Christian College. The certificate was presented to her by one of her own role models, Dr. Myles Monroe.
In January 2005, Rev. James formed The First Ladies Network, a team of Pastor's wives in the city of Toronto. The focus of this group is not only to unite Pastor's wives, but also to help them lead with their husbands.
Rev. James is passionate in spreading the gospel of Jesus Christ. Her desire is to see men and women come to know Jesus as savior and Lord and like a true champion of the faith she is unwavering in her stance for the Lord.