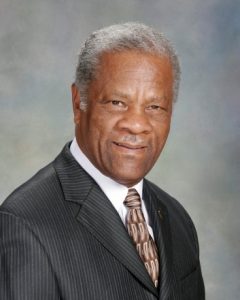 Bishop, Dr. Audley N. James is the Founder and Senior Pastor of Revivaltime Tabernacle Worldwide Ministry (RTT). Bishop James was born in Trelawny, Jamaica. The third of nine children he had an encounter with God, and gave his life to the Lord at the tender age of nine. He later graduated from the West Indies School of Public Health, and immigrated to Canada in 1969.
In 1980, after receiving his highest calling he was commissioned by God to establish and pastor a church to reach the lost and dying in the city of Toronto. Bishop James embarked on an aggressive evangelical campaign and within eighteen months of the church's inception, the congregation grew to over five hundred. The church's membership now stands at approximately 1500 meeting at two locations in Downsview and Durham.
Bishop James is a charismatic and dynamic Christian Minister and a well sought after speaker who has ministered in Canada, USA, the West Indies, Africa and Israel. He is well respected in the Christian and international communities and in 2012 he was appointed International Advisor to the Pan African Parliament.
Canada Christian College conferred on him an Honorary Doctor of Divinity and later installed him as Bishop. He also holds an Honorary Doctorate of Humanities from Canon University. In addition to his pastoral duties at RTT, he served as Chaplain of the Jamaica National Building Society and the Jamaica Diaspora here in Canada.
Bishop James is married to Rev. Rosenda who co pastors with him and together they have three children and seven grandchildren. He is an excellent baritone and won a bronze medal for baritone in the 1965 National Festival of Music in Jamaica.